You may have come here today looking for a new logo or website design, but what you really need is a strategy, a compass that points you straight in the direction of what your customers are looking for and can always guide you back to true north whenever you're led astray.
You need structure and rules to follow so you can stop feeling scattered, and start feeling intentional about your visual marketing. No more wasted efforts. No more confusion. Just a simple system to show your potential customers that you're the perfect fit for the job, so you can get back to doing what you do, better than before.
Whether your organization is just starting up and in need of a solid foundation, looking to shed its baby teeth with a more intentional direction, or fully mature and ready to commit to a new design direction, I offer custom solutions that can help you get wherever is next.
I offer three tiers of services:
Brand Strategy
Feel like your brand is missing the mark, but not ready to reinvent the wheel?
Together we'll walk through your existing brand, talk with your past customers, and determine which aspects of your visual brand are serving you best and which may be causing your brand to feel disjointed, outdated, or incongruent with your target audience. You'll walk away with a full brand positioning summary that you can use to plan future marketing projects
Brand + Logo Design
Give your brand a new look that resonates more effectively with your ideal client.
This tier includes the Brand Strategy customer interviews and positioning so we can take that knowledge and create a new logo design, color palette and supporting brand pieces that fit like a glove. You'll walk away with a completely new visual direction for your brand and supporting materials to get your started.
Brand + Website Design
Elevate your entire brand presence to the next level of awesome.
This holistic approach covers all bases, from visual brand to online presence. Including everything in the Brand Design tier, this tier includes a deep dive into messaging and exploring what information your customers need to know and how we can present it for maximum impact. I'll walk you through gathering and producing content for your website, and then we'll craft a design that is consistently beautiful and effective across all platforms.
Are you ready to ditch brand overwhelm?
Apply today to get started.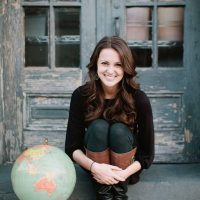 See how Epperly Travel elevated their brand presence and reached a higher end client with a new website design.
GETTING STARTED
In order to ensure that I can do the best work possible for you, I require that before taking on a project:
It sounds obvious but it's impossible to design when we don't know what success looks like. And your marketing dollars are much better spent if you save them until you know for certain where your business is going. Need help? Contact me for some great recs of business coaches and strategists who can help.
My process is robust, and we don't cut any corners, so it's a commitment of money and resources on your behalf. I feel confident that you'll get positive returns if you make smart investments in the brand strategy and design for your business.
It's true, you're hiring me to help you get your brand on track, but that doesn't mean you're off the hook! Executing a successful project is impossible without consistent feedback, information, and communication between us. If you're in the midst of a busy season, taking long vacations, or just generally flighty, we may not be the best fit. If you love communicating and collaborating openly, then go ahead and hit that apply button.